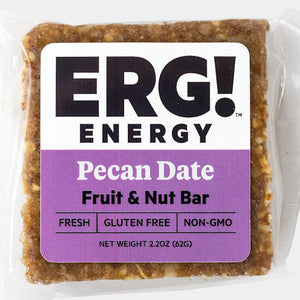 Pecan Date ERG! Fruit & Nut Bar
Sale price Price $2.79 Regular price
Who isn't nutty for pecans?
How can something that tastes so good be good for you as well?
Throughout history there have been many mysteries surrounding the pecan, but we're just fine with never solving the puzzle as long as this bar yastes so good. The combo of pecans and dates, coupled with an exotic blend of Middle Eastern spices ... well, it's pretty bold.
 Incredibly, this bar is as healthy as it is delicious.
Our ingredient list speaks for itself ... dates, raw almonds, organic rolled oats, raw cashews, pecans, plus cinnamon, cardamom, vanilla, lemon.
ERG! Pecan Date bars are the real deal, with whole ingredients and only nature's sweeteners ... real fruit and real honey.