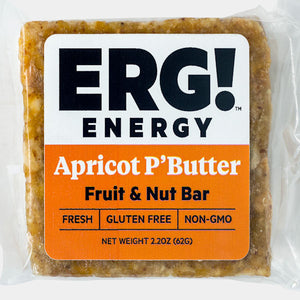 Apricot P'Butter ERG! Fruit & Nut Bar
Sale price Price $2.79 Regular price
It's a PB&J without the bread.
Chewy, sweet, and not overly p-nutty, our Apricot P'Butter Bars are naturally sweetened with real fruit and some of that Star Thistle Honey from Sleeping Bear Farms ... and we grind our own nut butters and use only organic rolled oats too.
Real whole foods keep energy levels high, and while most nutrition bars claim to be healthy, they often include stuff like "organic cane syrup" and "rice protein isolate" or ingredients most of us can't pronounce. When you pick up an ERG! Energy Bar, our clear wrapper let's you see what's inside and you can actually read our ingredient list.