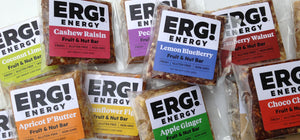 Assortment 60 ERG! Bars - Event or School Program?
Sale price Price $150.00 Regular price
Here's a simple nutritious assortment of 60 ERG! Bars for your upcoming school program, family outing, or sports event. Our 60 bar bulk box includes 5 or every flavor that we make
Note: In the event that you might have a grade school event, or have some particular dietary requirement (no peanuts, no caffeine, etc) please send a separate email to matt@erg-bar.com right after you've placed your order and we can help you pick a custom assortment. No extra charge of course.