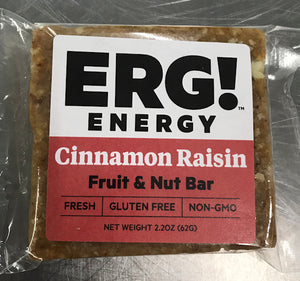 Cinnamon Raisin ERG! Fruit & Nut Bar
Sale price Price $2.79 Regular price
There's plenty of health benefits from an ERG! Fruit & Nut Bar,
but you'll also love the NEW taste. Yup, we've updated our original flavor with a touch of ciinnamon and vanilla, and sunflower hearts. Way good, Try 'em.
Unlike many nutrition bars that leave a weird after-taste or taste like cardboard our original ERG!, the Cashew Raisin, is pure chewy deliciousness.
Simple ingredients, it's still the favorite of many of our fans. It's the pocket-sized between-meal snack to fuel your body through a busy afternoon at work, a two hour mountain bike ride, or a cure for the typical fast-food blues.
Simple whole ingredients, and a label that you can actually read. We start with the greatest looking raisins you've ever seen, plus organic dried apples. Then we add our own blend of raw sunflower and raw almond butter plus organic rolled oats, and Star Thistle Honey.
 Real food ... Just Good Stuff.