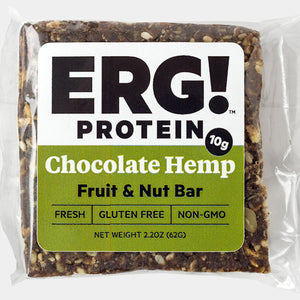 Chocolate Hemp ERG! Fruit & Nut Bar
Sale price Price $2.79 Regular price
Tasty and healthy? Yup, that's an ERG! Chocolate Hemp protein bar.
Our little nickname during development was "Chocolate Bomb".
Get your chocolate buzz and boost your body's recover with real whole food and 10g of protein. It won't taste like chalk either, as so many high=protein bars on the market do these days.
You can see how healthy these bars are before you even buy them because the clear packaging lets you see exactly what's inside. The ERG! Chocolate Hemp bar starts with real fruit, and includes organic apples, raisins, organic hemp protein, sesame seeds, Starv Thistle Honey, organic rolled oats, organic cocoa, vanilla, raw cashews, and raw almonds.
Real whole food keeps your energy levels high. A lot of protein bars claim to be healthy, but are actually just candy bars in disguise, loaded with sugar and a lengthy list of unpronounceable ingredients. That's not the case with the ERG! Chocolate Hemp protein bar, which supplies your body with real food for fuel and easily digested protein for muscle recovery.