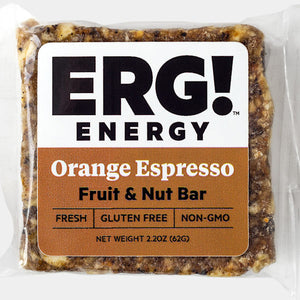 Orange Espresso ERG! Fruit & Nut Bar
Sale price Price $2.79 Regular price
Our whole building smells great when we're making ERG! Orange Espresso. They're not just your 'ol breakfast favorites but they're an afternoon pick-me-up too. Orange You Glad You discovered ERG! Bars? (Sorry, we couldn't resist).
 No funky orange flavoring just real oranges. 
Yup, whole fresh oranges minus the seeds. 
And real ground Espresso Beans from Roaster Jack too.
Most energy bars are plastered with healthy promises on the outside wrapper. ERG! Bars keep their promise with real ingredients on the inside. The clear packaging lets you see our 25% real fruit – oranges and organic apples – along with organic rolled oats, raw cashews, raw almonds and local Star Thistle Honey from our friends at Sleeping Bear Farms.
 Ka-Pow is all I'll add.