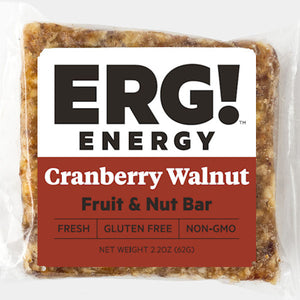 Cranberry Walnut ERG! Fruit & Nut Bar
Sale price Price $2.79 Regular price
Another new flavor by Heidi. Why hadn't we made a cranberry bar before? Probably because we were waiting for Heidi to think it up. Michigan Cranberries, Michigan Honey too.
The slightly coarser texture (compared to Cashew Raisin anyway) really brings out the tartness of the Cranberries and the unique taste of Black Walnuts. This makes it quite a bit different than our other flavors. 
As a mid-afternoon snack at the office or on a hike in the woods the Cranberry Walnut will make you smile and get comfortable whereever you might be.
Check out our ingredient list, every ingredient is a solid, real food. Nothing fractionated, nothing artificial, nothing made at a chemical plant. 
All ERG! Bars are made in our own facility. We made all the recipes, we designed the equipment, and we make everybar right here under our own control. Everyday we ship fresh product made with care in small batches. No warehouse in Omaha, just our shop here on Garfield and made with local labor.