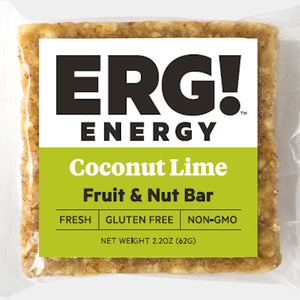 Coconut Lime ERG! Fruit & Nut Bar
Sale price Price $2.79 Regular price
One of our newest flavors developed by Heidi. "I think we should make a bar using Key Limes and Coconut" Two hours later we were all in love with a new flavor.
One of the interesting things about all of our flavors is that they each have simple real ingredients and they aren't formulated by what's cheap nor do we have to develop ingredients to be able to make any of them. Look at our ingredient list, there's nothing that you can't pronounce. Compare our bars to most of the others on the market. There's a big difference. We make small batches (300-400 units) so product is always fresh. It's not stored in a warehouse in Omaha.
So, this flavor has been an instant hit among people who have been buying our bars for years. The true name should be Coconut Pineapple Lime but that's too many letters for our label. The contrasting sweet-tart flavors are really quite remarkable.