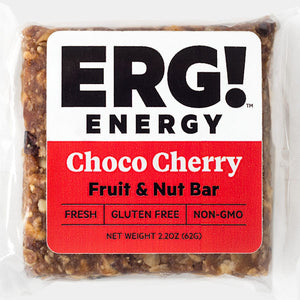 Choco Cherry ERG! Fruit & Nut Bar
Sale price Price $2.79 Regular price
What's That Crunch?
It's those raw, organic Cocoa Nibs in our Choco Cherry Fruit & Nut Bars.
We use only real whole ingredients that you'd instantly recognize if you saw them in your own kitchen. Ingredients like organic dried apples, cherries, organic rolled oats, our own blend of raw cashews and almonds, and Sunflower Seed nut butter, plus organic fair-trade cocoa powder, and some of that terrific Star Thistle Honey from Sleeping Bear Farms. 
It's an ingredient list you can actually read, and it comes in a clear wrapper so you can easily see what you're getting.
We wouldn't want to say these bars are better than Grandma's cherry pie, but you can't put a pie in your pocket. Perfect with a cup of coffee as a late morning snack or a mid-climb reward on Tuckerman's Notch.